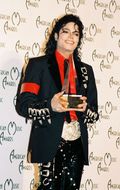 With the very sad news of Michael Jackson's sudden death last week came the predictable, and understandable, outpourings of grief; testaments to his musical genius; sharing of personal memories and the lament of opportunities now lost forever.
MJ's music has been playing almost non-stop, reminding us of the astonishing scale and diversity of his talent and musical output. 
His greatest hits album 'Number Ones' rocketed from 121 to the top of the UK album chart after a surge in sales since Thursday.   The same album was his last number one when first released in 2003 and some of his other albums have raced up the charts too.   Read the full story here.
While I sincerely hope that MJ's children benefit from the play royalties and proceeds of all those sales, isn't it a shame that they come now it is too late to lift the worry of financial ruin from their father's shoulders?
I nearly didn't write this blog post because I dislike the idea of jumping on such a distastefully morbid bandwagon. The reason I'm writing this now is because, with the sad story still prominent, my reflections will hopefully make more sense than if I wait until later.  Which is also the point of this post.
Sudden losses can mean guilt for those left behind if they didn't tell a deeply loved relative or friend just how much they are loved and appreciated, while they still had the chance to do so. 
Who are you going tell how much you love & appreciate them, today?
We often believe we have all the time in the world to fulfil our ambitions and dreams, when the reality is very different.
What dreams are you going to start making real, today?
Waiting until the time is right before embarking on a new project usually means it doesn't get started.
What's the first step of your new project that you're going to take, today?
It can take life-changing events to force us to evaluate what we've achieved so far, and how satisfied we are with the results.
What changes do you need to make, beginning right now?
Whatever you've been putting off, please do it now.  Don't wait until it's too late.